Myoguide's NEW Distributor!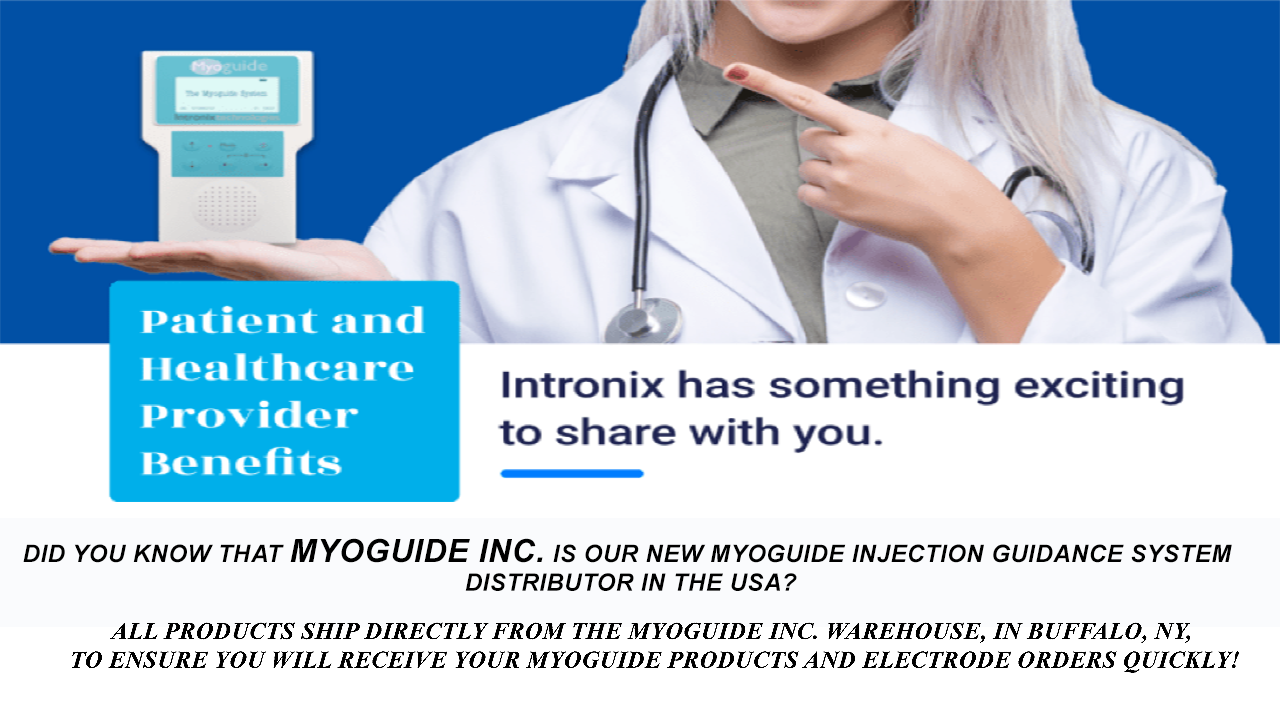 Visit our NEW Myoguide Store! The benefits of ordering direct from us include:
Easy to order: Myoguide, accessories, and ELECTRODES!
Exclusive Myoguide accessories
Great prices!
Exclusive 2-year extended warranty – only available when buying DIRECT!
Select to pay by credit card, or have a quotation sent to you
Super Fast Shipments
Responsive support available through: Web based resources, Email, phone, and Zoom
Post loaner program benefits: Any loaner program is supported! Intronix Technologies Myoguide loaner program is available to qualified applicants!
Visit the Myoguide Academy eLearning page! Take advantage of the first FREE injection guidance eLearning course!
Check out the Myoguide Training Page to learn how to use Myoguide, with tips to improve your results
Injector needle placements have been proven to improve with guidance (Schnitzler et al, 2012): Why not use an injection guidance system that is full featured, and equipped to handle both chemodenervation and neurolytic procedures? Myoguide can even be used as a stand alone peripheral nerve stimulator!
Billable CPT codes for injection guidance, and potentially improved results, ensure that purchase costs have a predictable payback while benefiting your patients.
Be satisfied that Myoguide's continuous upgradability will ensure that the latest updated functionalities can be added, keeping Myoguide on top of today's performance demands. Why settle for anything else?
Myoguide can be an essential part of your clinical toolbox. You can always count on responsive support, and superior service from Team Intronix.
Call Intronix today: Toll Free: 1-800-819-9996, or access the Intronix website – to learn more about Myoguide, and what it can do for you.